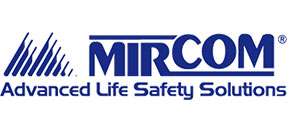 Alltech integrations is pleased to be a Mircom authorized dealer. Our fully trained staff, along with Mircoms outstanding line of products present our customer with great products at a great price. From the smallest installation, to the largest, Mircom offers a line of products to meet all your facility's needs.
Mircom traces its roots back to the 1960's when the owners of Mircom started manufacturing apartment intercoms and other related systems in Toronto. His company, known as Mirtone, quickly expanded to include fire alarm systems, and grew to become the 2nd largest fire alarm manufacturer in Canada, before being purchased by Edwards. However, Tony was just getting started as an entrepreneur! He started Mircom in 1991.
Today, Mircom stands as one of the fastest growing companies in the building solutions sector and the largest independent fire alarm manufacturer in North America. Our product line spans Fire Alarm and Emergency Audio, Communications, and Security and our brands include Mircom™ (our principal brand), Secutron™, and U.E.C.™ United Export. With a well-earned reputation for excellence, innovation and quality, they have consistently achieved double-digit annual growth.
Mircom Product Offers Include: